Welcome to the Emigrant Trail Chapter DAR
The Emigrant Trail Chapter was organized on December 8, 1951. Upon extensive research by the organizing regent, Mrs. Walter Flood, the chapter's name, Emigrant Trail, was chosen when it was found that such a trail actually existed during colonial times. Even though it was little more than an Indian trail, it led to the West.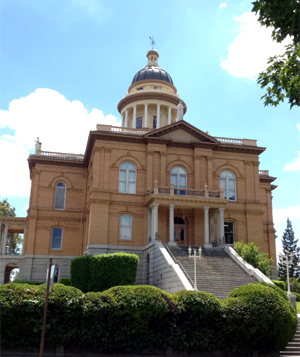 Old Auburn Courthouse
Auburn grew as a direct result of the 1849 Gold Rush. It was also a stop-over for many emigrants from the east on their way to California's other gold fields and to Sacramento, where it was told that the streets were paved in gold!
Emigrant Trail Chapter is an intimate group of patriotic ladies. We are a fun group of ladies who enjoy our friendships while working to inform our community and our members of our great American heritage. We are from the Sierra foothills area as well as from other states. Local residency is not a requirement for membership in any chapter.
Auburn is located about thirty miles northeast of Sacramento on the Interstate 80 highway – on the historic Lincoln Highway which goes coast to coast all the way to the eastern states.
We welcome any woman for membership who is over 18 years of age and who is descended from a man or woman who aided in achieving American independence during the period between April 19, 1775, and November 26, 1783. Information on membership in the DAR can be found
here
.
Web hyperlinks to non-DAR sites are not the responsibility of the NSDAR, the state organizations, or individual DAR chapters.
This site maintained by webmaster.
Site last updated 9 July 2017