Membership
National Society, Daughters of the American Revolution:
Any woman 18 years or older who can prove lineal, bloodline descent from an ancestor who aided in achieving American independence is eligible to join the DAR. She must provide documentation for each statement of birth, marriage and death, as well as of the Revolutionary War service of her patriot ancestor.

What is Junior Membership:
A Junior member is a DAR member age eighteen through thirty-five years of age (until her thirty-sixth birthday). She holds full membership in the National Society, state society, and chapter, and when qualified may serve as an officer and chairman at any level. She is automatically a member of the National Junior Membership Committee, may purchase a Junior pin from Hamilton Jewelers to wear on the official DAR ribbon, and may serve as a page at national and state events.

Serve as a Page
Pages, also known as the "Ladies in White," serve the Society at State Conference, council meetings, teas, and other state society events. They help the meetings progress smoothly by running errands, opening doors, answering questions, and assisting the state board of directors and guests. A DAR member is eligible to serve as a page until her forty-first birthday. Paging is a fun way to learn more about DAR, make long-lasting friendships, and support the Society. Only Junior members serve as pages.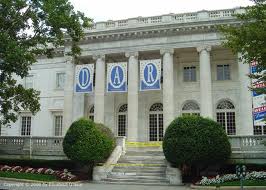 NSDAR Headquarters

For more information about membership in DAR, please click
here
.
Web hyperlinks to non-DAR sites are not the responsibility of the NSDAR, the state organizations, or individual DAR chapters.