National Society -
Daughters of the American Revolution
The DAR, founded in 1890 and headquartered in Washington, D.C., is a non-profit, non-political volunteer women's service organization dedicated to promoting patriotism, preserving American history, and securing America's future through better education for children.

DAR members volunteer more than 250,000 hours annually to veteran patients, award thousands of dollars in scholarships and financial aid each year to students, and support schools for underserved children with annual donations exceeding one million dollars.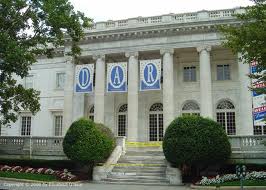 NSDAR Headquarters
As one of the most inclusive genealogical societies in the country, DAR boasts 175,000 members in 3,000 chapters across the United States and internationally. Any woman 18 years or older-regardless of race, religion, or ethnic background-who can prove lineal descent from a patriot of the American Revolution, is eligible for membership.
Education
The DAR supports a variety of different educational programs, contests, and awards. Students are invited to get involved and participate in these different programs. Reference their site for useful information and materials about the DAR educational programs for local schools and communities, scholarships, essay contests, youth programs, DAR Schools, or the DAR Manual for Citizenship; click this link: DAR Education.
Genealogy
Links to help with researching ancestors:
Patriotism
For more than a century, the members of the National Society Daughters of the American Revolution have dedicated themselves to historical preservation, promotion of education, and encouragement of patriotic endeavor. These goals are as relevant in today's society as they were when the organization was founded in 1890. For more information about the patriotic services, please click this link: DAR Patriotic Services

To access the National Society's main page please click here.
Web hyperlinks to non-DAR sites are not the responsibility of the NSDAR, the state organizations, or individual DAR chapters.